How to save for a rainy day and plan for a comfortable retirement.
Reaching wealth goals and achieving personal ambitions are major objectives of the financial planning process. In order to make plans for the future, you need to know where you are today and where you want to be in the future.
Wealth goal-setting is very much like creating a business plan. You need to know a starting point and ending  point, the time frame for 'exiting' (or reaching your goals), and the estimated cost involved.
Types of wealth goals
The three most common types are:
Retirement planning or property purchase over the very long term (15 years or more)
Life events, such as school fees over the medium term (10-15 years)
Rainy day or lifestyle funds to finance goals such as a dream sports car over the medium to shorter term (5-10 years).
Wealth goals that really matter most
It's important to consider and plan for which wealth goals really matter most. Instead, many people muddle through their financial lives, spending to meet the day-today expenses that dominate their attention. That's why to get what you want most you must decide which wealth goals will take priority and work toward the lesser goals only after the really important ones are well provided for.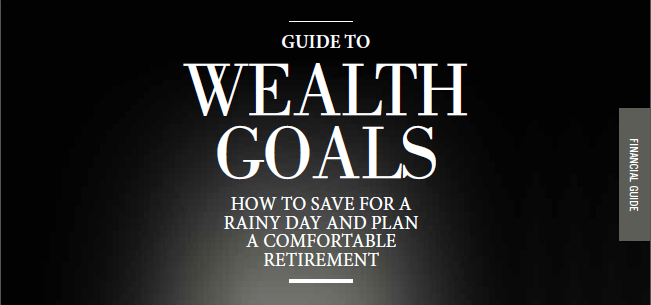 Is it time to review your wealth goals?
Please contact us to discuss your requirements – we look forward to hearing from you.
Phone: 0141 643 9200
Email: info@adplus.co.uk
Download our guide to learn more.
NOTES: Pension and investment advice will be given by our sister company, ad+ Financial, which is regulated by the FCA.
The content of the articles featured in this publication is for your general information and use only and is not intended to address your particular requirements. Articles should not be relied upon in their entirety and shall not be deemed to be, or constitute, advice. Although endeavours have been made to provide accurate and timely information, there can be no guarantee that such information is accurate as of the date it is received or that it will continue to be accurate in the future. No individual or company should act upon such information without receiving appropriate professional advice after a thorough examination of their particular situation. We cannot accept responsibility for any loss as a result of acts or omissions taken in respect of any articles. Thresholds, percentage rates and tax legislation may change in subsequent Finance Acts. Levels and bases of, and reliefs from, taxation are subject to change and their value depends on the individual circumstances of the investor. The value of your investments can go down as well as up and you may get back less than you invested. Past performance is not a reliable indicator of future results.