Welcome to the first issue of our publication for 2016. Have you made your New Year's resolutions?
Considering that the most common topics are health and finances, there's a pretty good chance that at least one of them involves a financial goal. On page 10, we look at why the start of a New Year is the perfect time to take stock and think about how you can improve your financial position. Many of us start the year with good intentions, but things often get in the way as the year progresses. Tempting as it may be to put off
tackling your finances, giving your money matters a thorough sort through will help you work towards what you want to achieve financially out of life.
To minimise the tax you pay, it's important to be fully aware of the choices you can make before you make them, so planning ahead and taking professional financial advice is essential. With real-terms tax increases a prospect for the foreseeable future, it makes sense to utilise every available tax relief. HM Revenue & Customs (HMRC) creates many legitimate opportunities for you to reduce the amount of tax you pay. However, you may not be aware of them all, or you may be unsure of how to take advantage of them. On page 08, we consider some examples of the ways in which legitimate planning may save you money by reducing your tax bills.
Also inside this issue, we look at tax-efficient Individual Savings Accounts, the new dividend tax regime and how the pension tax relief system is about to be reinvented. The full list of the articles featured in this issue appears on page 02.
We hope you enjoy reading this issue and find it informative. To discuss any of the articles featured, please contact us.
AUTHOR: David Charles
We've included advice on several other key financial planning topics. DOWNLOAD your free copy of ad+ Smart Money now.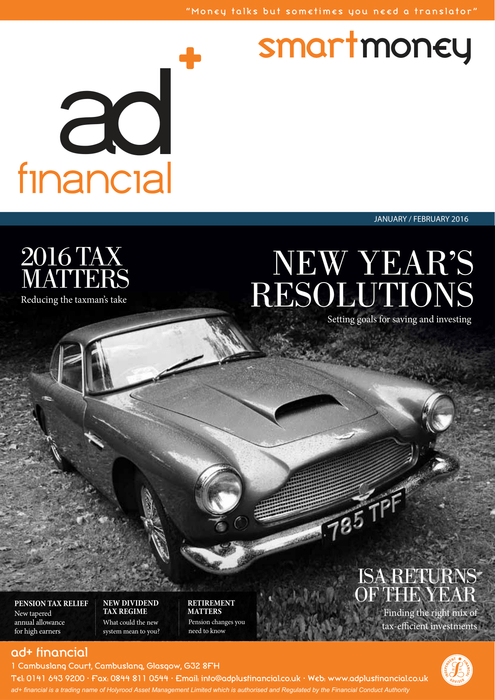 NOTES:
Content of the articles featured in this publication is for your general information and use only and is not intended to address your particular requirements or constitute a full and authoritative statement of the law. They should not be relied upon in their entirety and shall not be deemed to be, or constitute advice. Although endeavours have been made to provide accurate and timely information, there can be no guarantee that such information is accurate as of the date it is received or that it will continue to be accurate in the future. No individual or company should act upon such information without receiving appropriate professional advice after a thorough examination of their particular situation. We cannot accept responsibility for any loss as a result of acts or omissions taken in respect of any articles.
Pension and investment advice will be given by our sister company, ad+ Financial, which is regulated by the FCA.
INFORMATION IS BASED ON OUR CURRENT UNDERSTANDING OF TAXATION LEGISLATION AND REGULATIONS. ANY LEVELS AND BASES OF, AND RELIEFS FROM, TAXATION ARE SUBJECT TO CHANGE.
A PENSION IS A LONG-TERM INVESTMENT. THE FUND VALUE MAY FLUCTUATE AND CAN GO DOWN. YOUR EVENTUAL INCOME MAY DEPEND UPON THE SIZE OF THE FUND AT RETIREMENT, FUTURE INTEREST RATES AND TAX LEGISLATION.
The value of your investments can go down as well as up and you may get back less than you invested. Past performance is not a reliable indicator of future results.