Welcome to the latest issue of ad+ SmartMoney magazine. Taxes, as we know, are one of the two great inevitables in life. As the UK tax system continues to grow ever more complex, and with more responsibility being placed on the individual to get their own tax right, ensuring that you receive the best professional advice to optimise your tax position is paramount. On page 08, we consider how appropriate tax planning could help you substantially reduce tax liabilities and defer tax payments. We have provided details of a number of tax planning areas you may wish to review, especially as we are now in the run-up to the 2015/16 financial year end on 5 April.
The Chinese New Year, also known as 'Spring Festival' in China, is China's most important traditional festival. The 2016 Chinese New Year, 'The Year of the Monkey', commenced on Monday 8 February. Monkeys in the Chinese zodiac are 'clever, mischievous and curious', so we'll have to see if this brings about a luckier year for Chinese financial markets. Certainly, fund managers investing in China are proving sanguine. The Association of Investment Companies (AIC) has collated views from investment company managers on China, and one consistent theme is that the spectacular growth story of the past should not cloud judgement on the China that we see today. Read the full article on page 04.
Pensions have been transformed by the arrival of freedom reforms on 6 April 2015 which now give far greater flexibility over what you can do with your pension pot. The new freedoms mean you can enjoy far greater choice on how you spend and generate an income from your pensions, but with further changes on the horizon we look at some of the key changes you need to know on page 06.
The full list of the articles featured in this issue appears on page 02.
We hope you enjoy reading this issue and find it informative. To discuss any of the articles featured, please contact us.
We've included advice on several other key financial planning topics. DOWNLOAD your free copy of ad+ Smart Money now.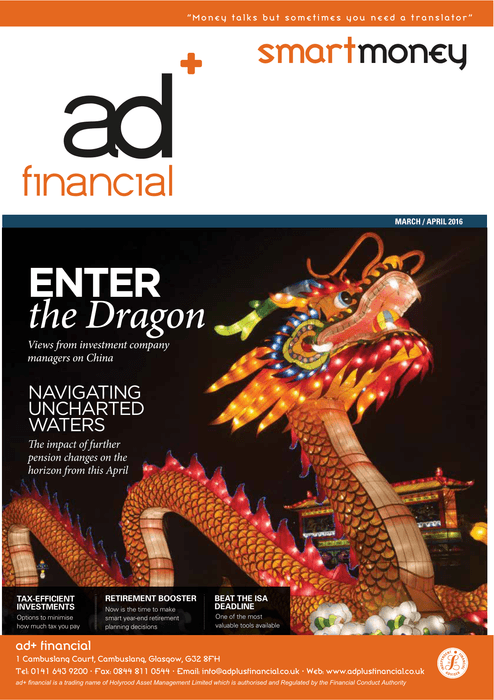 NOTES:
Content of the articles featured in this publication is for your general information and use only and is not intended to address your particular requirements or constitute a full and authoritative statement of the law. They should not be relied upon in their entirety and shall not be deemed to be, or constitute advice. Although endeavours have been made to provide accurate and timely information, there can be no guarantee that such information is accurate as of the date it is received or that it will continue to be accurate in the future. No individual or company should act upon such information without receiving appropriate professional advice after a thorough examination of their particular situation. We cannot accept responsibility for any loss as a result of acts or omissions taken in respect of any articles.
Pension and investment advice will be given by our sister company, ad+ Financial, which is regulated by the FCA.
INFORMATION IS BASED ON OUR CURRENT UNDERSTANDING OF TAXATION LEGISLATION AND REGULATIONS. ANY LEVELS AND BASES OF, AND RELIEFS FROM, TAXATION ARE SUBJECT TO CHANGE.
A PENSION IS A LONG-TERM INVESTMENT. THE FUND VALUE MAY FLUCTUATE AND CAN GO DOWN. YOUR EVENTUAL INCOME MAY DEPEND UPON THE SIZE OF THE FUND AT RETIREMENT, FUTURE INTEREST RATES AND TAX LEGISLATION.
The value of your investments can go down as well as up and you may get back less than you invested. Past performance is not a reliable indicator of future results.