John Lawrie Success Story
John Lawrie Success Story
ad+ has worked with John Lawrie Construction since 2004.
Here's a taste of what's been achieved:
Saving the company £10,000's in tax
Arranging regular strategy meetings and implementing Key Performance Indicators (KPI's) to help assist with the rapidly growing business
Preparing Management Accounts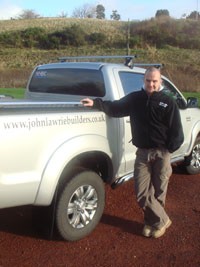 A reputation to be proud of…
John Lawrie Builders, based in Central Scotland, has been active in the construction of UK residential and commercial property since 2003.
They have achieved a UK wide reputation they are proud of. A reputation for outstanding planning, implementation and work in progress.
The company has achieved particular acclaim for its work on more challenging commercial and residential projects which remain occupied during building works.
Focus on what matters…
Early in the company's history, John Lawrie recognised he needed to stay focussed on building and maintaining his company's reputation and order book.
John didn't want to be distracted by the financial management of the business but he also knew he needed sound financial advice and guidance.
Ad+ was able to provide exactly the support he was looking for, starting with Management Accounts. Then working on a quarterly basis with John on his business growth strategy…
John's comments:
"Over the years ad+ has taken the time to understand how my industry works and has helped us with several tax planning exercises which have directly saved my company tens of thousands in tax. I sit down with Ad+ every quarter and we review how the business is performing and talk over important decisions based on the Management Accounts figures and growth strategy. My partnership with Ad+ has been invaluable to the growth and health of my business and has impacted positively on my own work life balance, allowing me to take more time away from the office."John Lawrie
What about you and your business?
Management accounts can and should play a role in helping manage your business finances, as well as influencing important management decisions, and preparing for efficient tax planning. If you want this kind of support for your business please call AD+ on 0141 643 9200