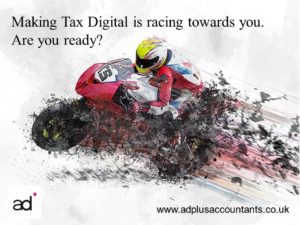 On the 1st April 2019, almost all VAT-registered businesses will be required by HMRC to make digital VAT returns every quarter. Is your business ready? 
You could invest in new digital accounting software and staff training, or you could relieve your business of the entire processing burden by outsourcing all your bookkeeping and VAT Return work to ad+ Chartered Accountants.
We regularly receive requests to take over bookkeeping from business owners operating in a wide range of trades and professions, including e-commerce, kitchen installation, digital marketing, building maintenance, opticians, and pharmacists.
ad+ has helped many local businesses to convert or upgrade their bookkeeping software systems and then provided one-on-one training on Xero.
If you would like to chat about the best way for your business to deal with this new HMRC requirement, simply get in touch.
Source: HMRC's announcement