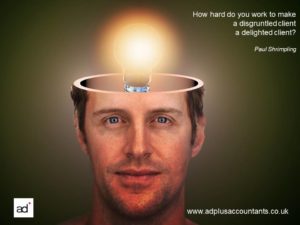 "How hard do you work to make a disgruntled client a delighted client?" asks Paul Shrimpling in his latest 'business bitesize' newsletter. That great question, supported by fresh research insights, and practical advice from Paul got my mind buzzing early this morning. We all know that a happy and loyal customer can be a profitable customer. Paul's advice is especially relevant to ad+ because we are keen to learn about and share tips which can help ambitious business owners improve financial results.
My mind is still buzzing with questions: –
How can we improve our own measurement of customer experience and profitability?
How can we define the service changes that will result in a higher return on investment?
In a small business many plausible suggestions are thwarted by lack of funds or lack of resources. Careful thought is needed about practical implementation and time taken to get a profitable return. This pragmatic approach is essential. Every time we prepare a set of accounts we get to look inside that business. We can see that some businesses operating in the Glasgow and Lanarkshire area do so with narrow profit margins and stretched cash-flow. They do a wonderful job for their customers, but they can't afford to make costly investments that don't deliver a financial return in a short period of time.
The acid test for us is usually the quarterly management accounts and associated review discussions. We apply that process to ad+ decisions, and we recommend the same approach to all business owners. Obtaining customer feedback and responding accordingly has always been an operating principle of ad+. We aim to complete a customer satisfaction survey at the end of every annual accounts meeting, and we are currently evolving a way to strengthen the link between our NPS score and our financial results.
Can we measure an investment – result connection?
How long is it taking for the investment cost to be recovered?
Does this justify raising additional funds to allow more investment and expansion?
Is one department getting a higher return than than another? Why? What should be done next?
Every business owner wants to be proud of the way their business takes care of customers, but at the same time that business needs cash-flow and profits to continue. So as we all embark on this journey of improving customer experience we must design a 'test and measure' process that will allow us to see what is working in a profitable way and what is not worthwhile. ad+ is refining its own customer satisfaction/profit KPIs, and we would be happy to explore how we could design an appropriate management accounts and KPI package for your business that will sharpen your responsiveness and give you the confidence to make bold management decisions.
Get in touch with David Charles to arrange your initial discussion with one of our Chartered Accountants.
dcharles@adplus.co.uk
01416439200