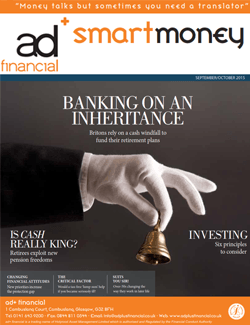 Good financial planning is all about thinking ahead. And planning for the future means making conscious decisions now, rather than getting bogged down in the minutiae of day-to-day events. So, it's important to take a step back to look the bigger picture occasionally and to ask yourself a few key questions: how are my finances doing? Am I meeting my key financial goals? Where could my finances be improved?
With this concept of future planning in mind, the new issue of our magazine, Smart Money, gives you a fresh perspective on some of the areas you need to think about now, so you're better prepared to meet your financial goals in the future.
Inheritance tax
There's no guarantee that the inheritance you're anticipating will materialise. But one-in-three working Britons (35%) are still relying on an inheritance to give them the stable financial future they're looking for. The reality is that you could be in for a big shock if you're banking on an inheritance to fund your future plans.
Findings from a study released by LV= show that millions are banking on an inheritance to provide them with financial assistance. And, most worryingly, this cash windfall is often key to their retirement plans. Without the right advice, and careful financial planning, HM Revenue & Customs could become the single largest beneficiary and take the lion's share of this windfall.
Critical illness cover
Most homebuyers take out life assurance when they arrange a mortgage. But many overlook another form of financial protection that's more likely to be needed as they near retirement age.
Critical illness cover, also known as critical illness insurance, covers specified serious illnesses and provides a tax-free 'lump sum' to the policyholder. This payout could be used to help pay for your mortgage, liabilities or alterations to your home such as wheelchair access if you need them. Ultimately, though, it's your choice how you use the money, so it's prudent cover to take out as you near pensionable age.
Pension fraudsters
Changes to the pension rules are creating new opportunities for scams. And this means being on your guard for any potential fraudsters.
We highlight the importance of being cautious of anyone approaching you with advice on how to invest your pension. Since retiring, almost 10% of pensioners have reported being targeted by financial fraudsters – a concerning trend that calls for extra vigilance.
We hope you enjoy reading this issue and find it helpful when thinking through your future financial plans.
If you'd like to talk to us about any of the issues raised in this issue, please do call us or drop us an email. We'd be happy to help you with your financial planning needs.
Download our latest edition of Smart Money to learn more.
NOTES:
Content of the articles featured in this publication is for your general information and use only and is not intended to address your particular requirements or constitute a full and authoritative statement of the law. They should not be relied upon in their entirety and shall not be deemed to be, or constitute advice. Although endeavours have been made to provide accurate and timely information, there can be no guarantee that such information is accurate as of the date it is received or that it will continue to be accurate in the future. No individual or company should act upon such information without receiving appropriate professional advice after a thorough examination of their particular situation. We cannot accept responsibility for any loss as a result of acts or omissions taken in respect of any articles.
Pension and investment advice will be given by our sister company, ad+ Financial, which is regulated by the FCA.
INFORMATION IS BASED ON OUR CURRENT UNDERSTANDING OF TAXATION LEGISLATION AND REGULATIONS. ANY LEVELS AND BASES OF, AND RELIEFS FROM, TAXATION ARE SUBJECT TO CHANGE.
A PENSION IS A LONG-TERM INVESTMENT. THE FUND VALUE MAY FLUCTUATE AND CAN GO DOWN. YOUR EVENTUAL INCOME MAY DEPEND UPON THE SIZE OF THE FUND AT RETIREMENT, FUTURE INTEREST RATES AND TAX LEGISLATION.
The value of your investments can go down as well as up and you may get back less than you invested. Past performance is not a reliable indicator of future results.